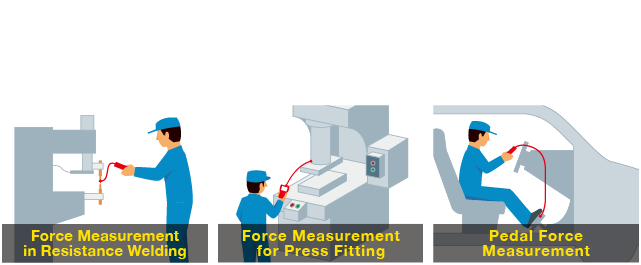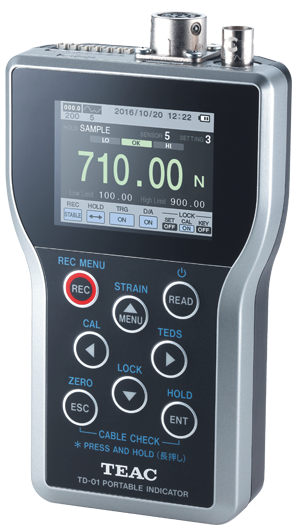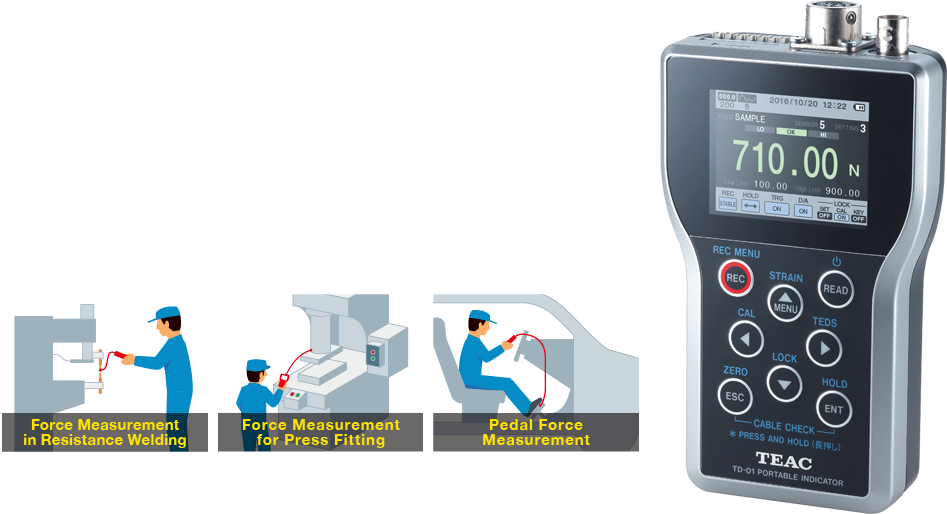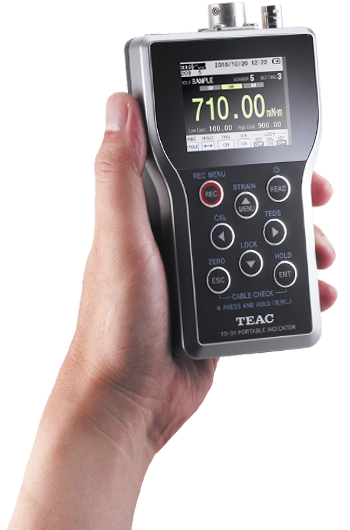 TD-01 Portable is a digital indicator that connects with strain gauge based transducers. This unit displays input signals from transducers as an indicator value or graph display and features: Great visibility with color graphic LCD, high-speed processing A/D converter, indicator recording, interrupt check and support for TEDS.
The TD-01 is wonderfully portable and equipped to be highly functional with excellent cost-effectiveness.

A variety of advanced functions are combined in one compact unit!
High-performance color graphic LCD screen
2.4" color TFT LCD provides great visibility and a variety of information display.
It can be displayed in the color behavior judgment.

Waveform & bar meter display function
Graphical chart allows users to check input signals instinctively.

TEDS function (Automatic calibration)
TEDS function reads the calibration information to automatically, and records calibration values when the power is turned on.
Sensor information can be displayed and rewritten.

Indicator value list
This function can display a list of recorded indicator values.
Waveform screen can be recorded, displayed and compared.

Static Strain Disp. Mode
Show the input signal with the strain amount unit.
This function makes it easier to check load-cells for plastic deformation.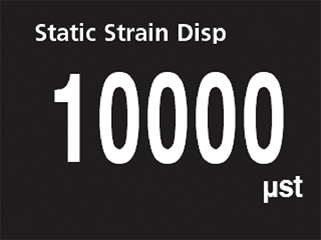 Interrupt Check
Disconnecting becomes readily apparent at a field.
If the possibility of an interruption is detected, the location of the possible interruption will be shown in red.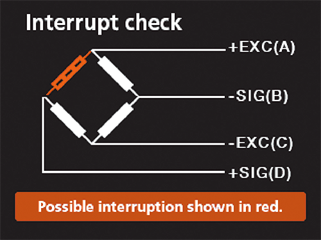 Dual Input
Round connector (NDIS7P)
Connecting with the terminal bank

Dual language Support (English and Japanese)
Japanese / English changeable.

Multiple power supply system
Continuous operation time on four AA batteries power is approximately 24 hours (when the EVOLTA alkaline batteries are used).
USB bus power can enable the unit to drive for many hours continuously.

D/A output
You can achieve analog output that corresponds to the unit indicator value as voltage output within ±2V.
The unit is available as a dynamic strain amplifier.