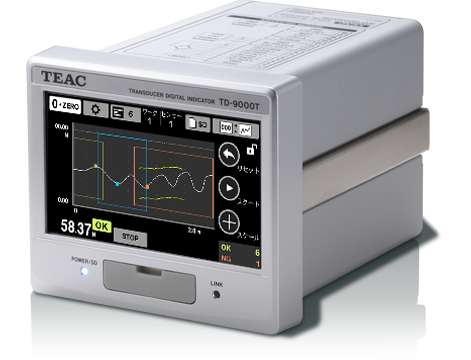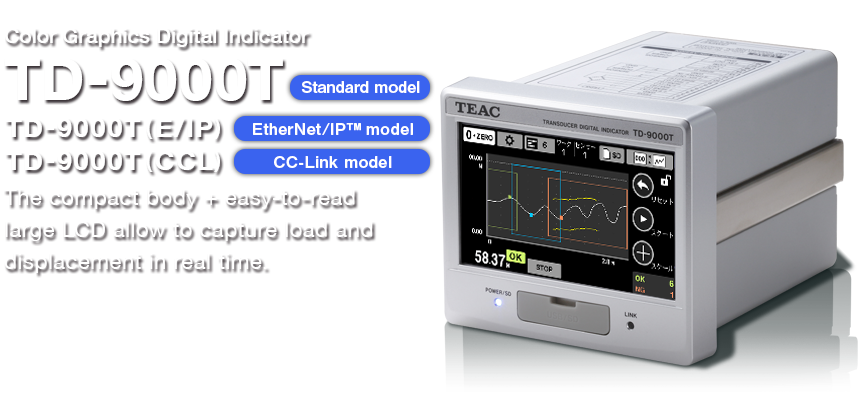 The TD-9000T is a digital indicator for load management that supports two inputs, load (load cell) and stroke (displacement gauge).
High-speed A/D conversion of 25,000 times/sec and equipped with a 4.3-inch touchscreen monitor in DIN1/4 (92 x 92) size. While being high-end, it is a high-performance model that realizes a low price.
Waveforms during measurement can be checked in real time. Widely usable from daily monitoring to verification of processing data.
System configuration
Press loading control of press fitting
Measuring key-touch force when pressed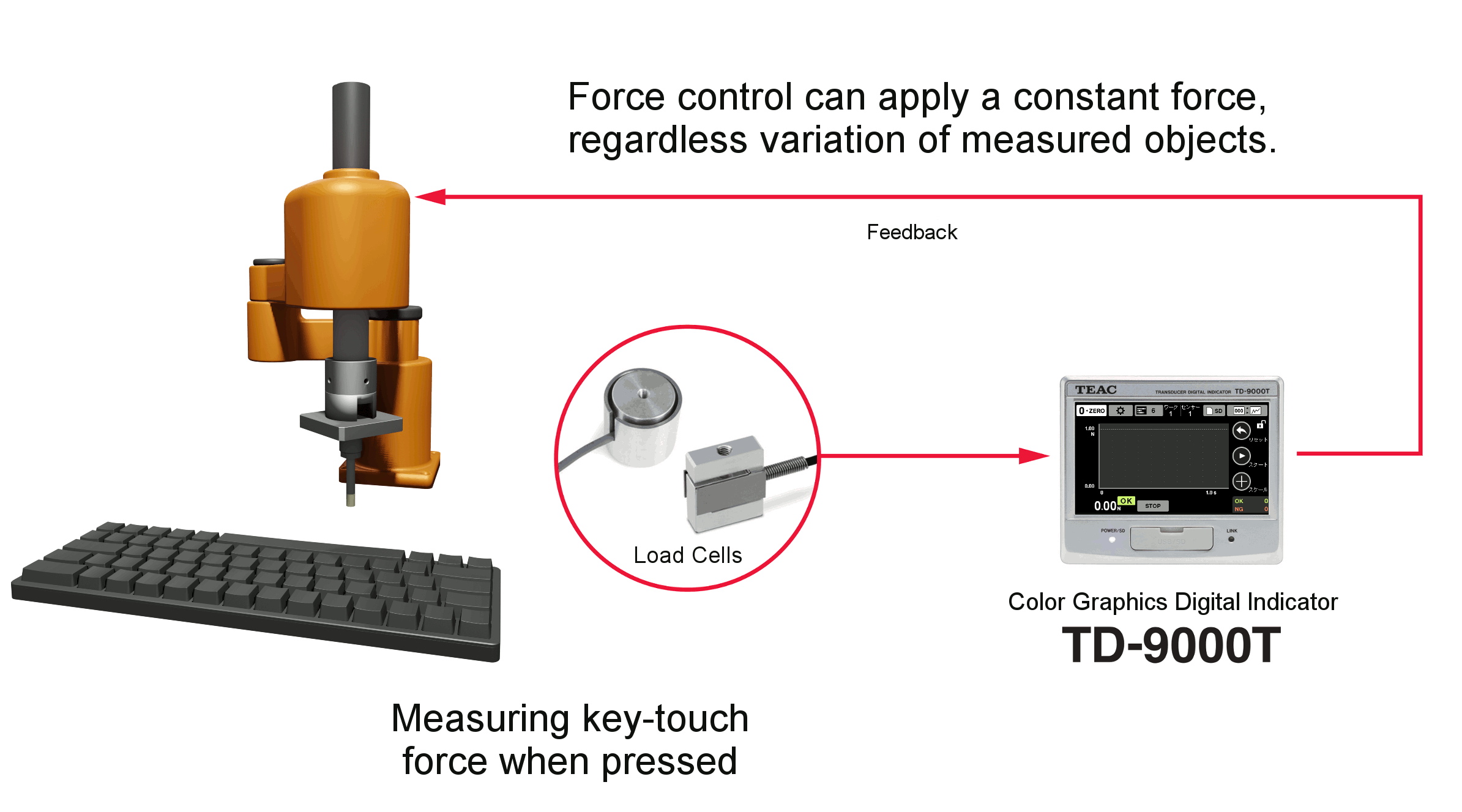 Compact body & Color display screen
Compact body
A 4.3-inch wide touchscreen monitor is mounted on a general-purpose 92 x 92 mm panel mounting hole size.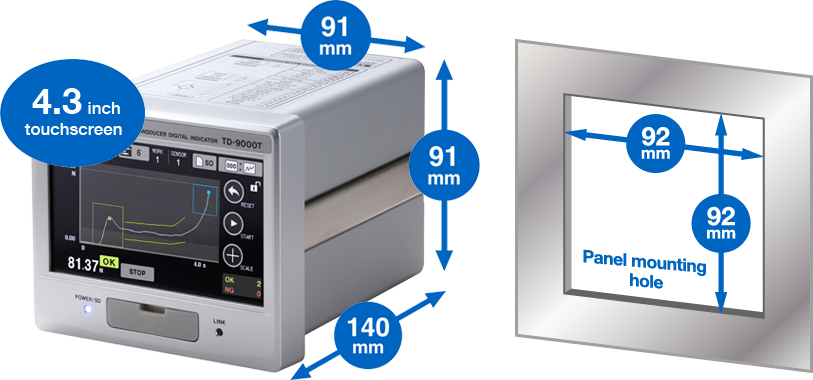 Check the sense of the TD-9000T's size using AR
Tap the image on your iOS or Android device to use it.
If you are browsing on a PC, use the QR code below.

* Check here for the operating environment and operation method of AR.
Home Screen
The indicator value display allows to check the real-time load value and setting conditions, and also the waveform display mode allows to make OK/NG judgment on the waveform in real time.
※When the unit is turned on, the screen last open when it was turned off reopens (indicator value or waveform screen).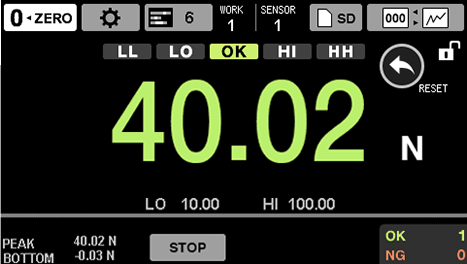 Power supply
DC 24V (± 10%) 13W
100V - 240V AC : PA-91 AC adapter is required (option)
Displacement sensor input
Adapting 2 inputs of Strain and Displacement (Voltage and Pulse)
Support for pulse input (A/B phase or A phase, differential square wave (RS-422 conformance) and voltage input ±5.2 V. Not only Time-Load but also Displacement-Load management is possible.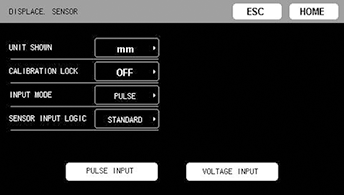 High-speed sampling
Realizing more reliable measurement without missing momentary changes.
25,000 times/sec and 5,000 times/sec can be selected. (Resolution: 24bit)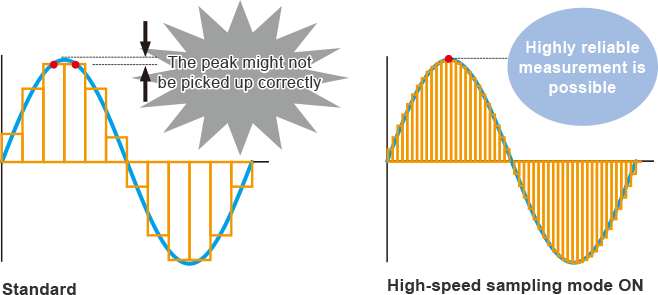 TEDS Calibration
This new function takes the hassle out of inputting numerical values during equivalent input calibration.
The calibration method uses the strain gauge transducer rated output (mV/V) and rated capacity that are recorded in TEDS memory.
※The unit only supports 4kbit.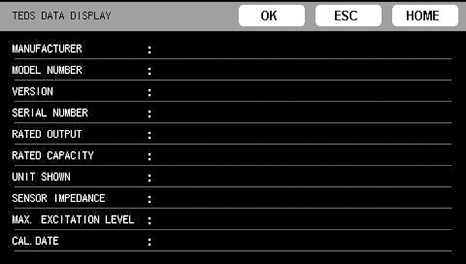 Linearization calibration (Adjustment function)
The linearity of load measurements is improved by increasing the calibration points.
After actual load calibration and equivalent input calibration, input the linearization calibration.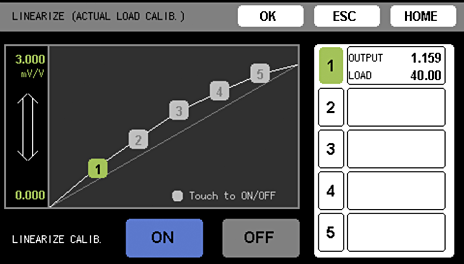 Real-time judgments
Continuous judgment
The continuous judgment is a judgment method that determines whether it is OK or not by comparing the values being measured with the comparison values of "high limit, high high limit, low limit, and low low limit." In addition to digital display, this unit also supports graph display.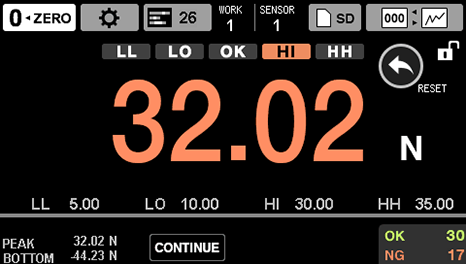 Band judgment
Band judgment is a judgment method that continuously compares and judges measured values that change with time and displacement using the permissible band. Instead of high limit, low limit and other fixed values for continuous judgment, any curved line can be used for comparison.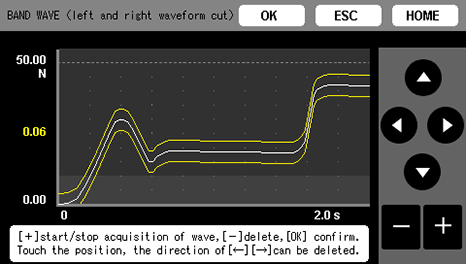 Multi-zone judgment
Multi-zone judgment is a judgment method that determines whether or not the measured values are OK for the zones surrounded by the sections of allowable load and time or displacement.
Eight types of holds, namely, constant comparison, sampling, peak, bottom, peak to peak,average value, maximum/minimum and inflection point, can be designated as a means of OK/NG judgment. OK/NG is judged in a maximum of 5 zones for one process.Zone switching is also possible from an external input.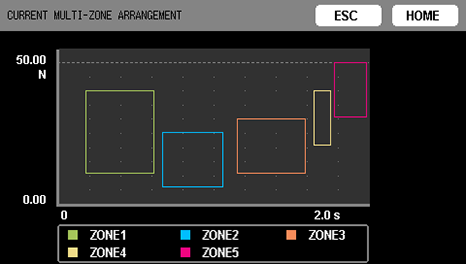 Combination Judgment (Band + Multi-zone judgments)
The combination judgment function is a judgment method that determines OK or not for one work by combining "Band judgment" and "Multi-zone judgment."
This enables detailed judgment even with complicated waveforms.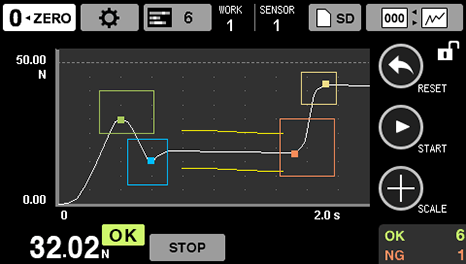 Data output
Analog output
The D/A converter allows for analog output that corresponds to the unit indicator value.
Voltage output: 0 - ±10V
Current output: 4 - 20mA
The maximum voltage output can be set between ±1V and ±10V in 1V steps using the D/A max. voltage setting.
Digital output
Standard feature: RS-232C, USB
RS-232C and USB cannot be used at the same time.
Options: Ethernet/IP™, CC-Link (planned)
Data saving and judgment results display functions
Internal memory
As well as measurement data, setting information and judgment results can be saved in CSV format, making it easy to verify and utilize the results.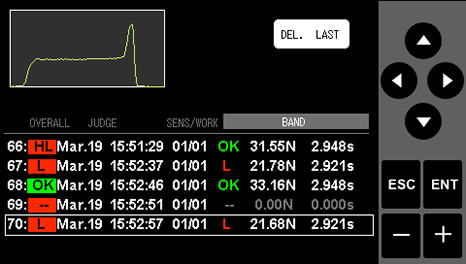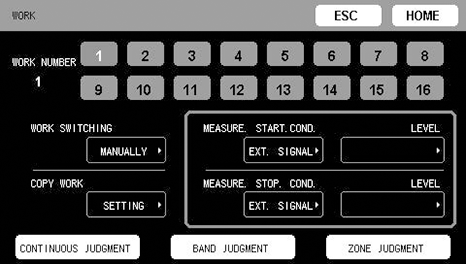 SD card
Recording data format: CSV format
Recording file structure:
Header section (device numbers, measurement dates and times, sensor numbers, work numbers and other measurement data)
Data section (measurement data and comparison waveforms)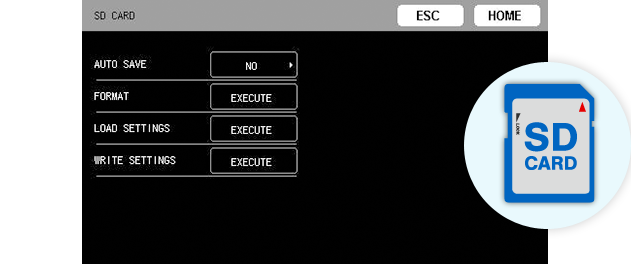 Judgment result display function
The data you care about can be checkd on the spot with the judgment result.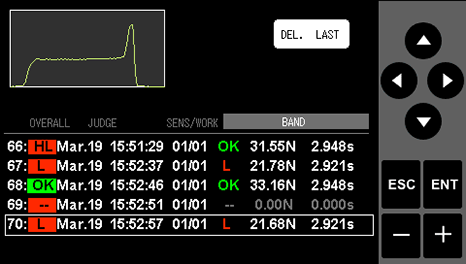 Diagnostic Functions
Static strain display
The function can investigate defects such as load cell deterioration and plastic deformation.
The input signal is displayed in strain amount unit (µST).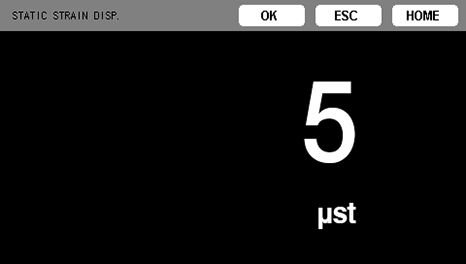 Disconnection detection
The disconnection point of the load cell can be checked in real time. If the possibility of an interruption is detected, the location of the possible interruption will be shown in red.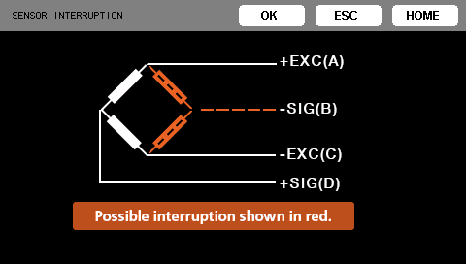 Input/output terminal check function
The status of control input/output signals on the back of the main unit can be checked.
Input terminal
Depending on the input signal, LOW (ON with yellow indicator) or HIGH (OFF) is shown.
Output terminal
Output can be turned ON/OFF for the connectors as desired.
Use this when checking output connections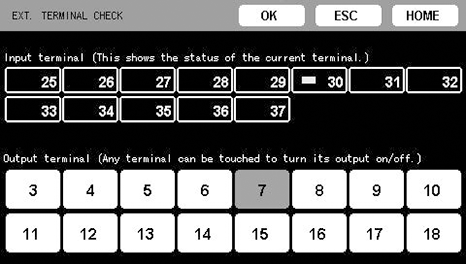 Communication options
Ethernet/IP™
A lineup of Ethernet/IP™ compatible model that can be directly connected to a PLC.
※The Ethernet/IP™ support model is a factory-installed option.
CC-Link
A lineup of CC-Link compatible models that can be directly connected to a PLC.
※the CC-Link support model is a factory-installed option.
Languages: Displayed in 4 languages (Japanese, English, Chinese, Korean)
The TD-9000T supports not only Japanese display but also English display. (Chinese and Korean will also be supported)
Acquisition of safety standards and environmental consideration, responding to globalization of customers.
The display language can be switched between Japanese and English.
In addition to Japanese, English, Chinese, and Korean manuals are also available.
Compliant with CE and UL standards.
Environmentally friendly design, compliant with European RoHS Directive and REACH Regulations
Language setting screen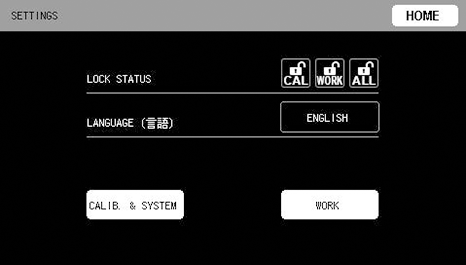 Judgment method (e.g.: Setting for inflection point holds)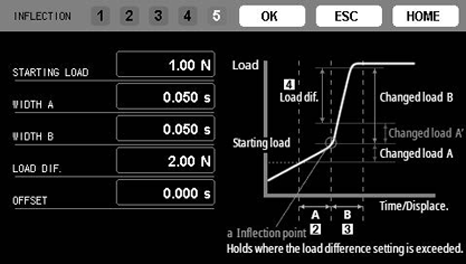 Easy-to-understand message
Equipped with a warning function that takes the user's point of view into consideration, making it easy to investigate the cause when a problem occurs.
The display language can be switched between Japanese and English. (Chinese and Korean will also be supported)
Error display examples
This appears when an invalid value has been set in a settings menu, for example.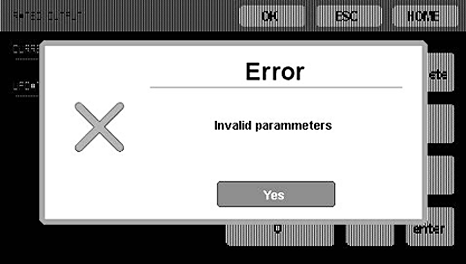 Warning display examples
Settings in menus that require warnings are shown when, for example, other settings must also be changed.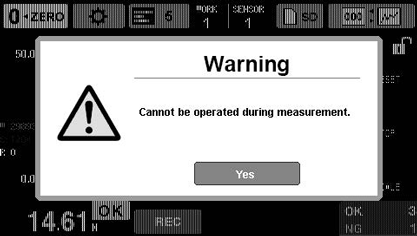 Software
Offline data viewer program TD-View [Free software]
The TD-View is software that manages data measured by TD-9000T on a PC, and displays and statistically analyzes the data recorded on the SD/SDHC card on a personal computer. It shows its true ability in statistical process control. Not only individual measurement data (Time-Load, Time-Displacement, Displacement-Load), but also trends and histograms of OK/NG judgment points for the entire list and statistically calculated values (Data, OK/NG Count, Average, Maximum, Minimum, Variance, S.D, Fluct., Cp) are displayed.
In addition to saving the measurement data in CSV format, indicator value lists and graph data can be checked with a simple operation.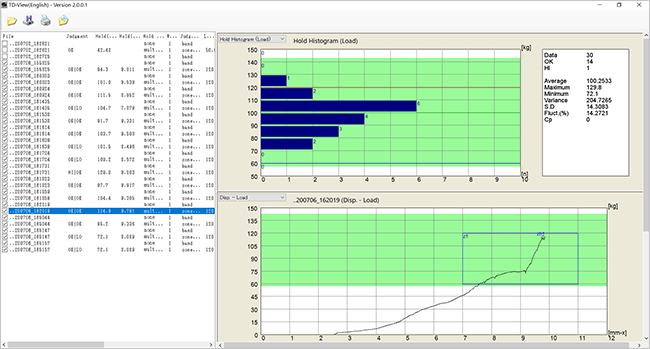 Recommended Operating Environment
System Requirements
CPU: 2nd generation Intel® Core™ i5, 3.0 GHz or faster
OS: Windows 10
Memory: 4GB or more
HDD free space: 10GB or more
Screen resolution: 1024 x 768 pixels or higher
.Net Framework 4 Client Profile

Please contact us if you would like to download