Compression Load-cell TC series
TC-WLD(T)
TEDS
Load cell for spot welding pressure control.
Features

Compact, lightweight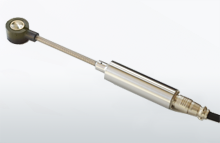 Model
Unit
Rated.Capacity (R.C)
TC-WLD(T)
N
5
10
20
50
100
200
500
kN
1
2
3
5
10
20
40
50
100
200
500
1000
Model
TC-WLD(T)
Rated Capacity(R.C)
10kN, 20kN
Safe Overload Rating
120%R.C.
Rated Output (R.O.)
1mV/V ±50%
Non-linearity
1%R.O.
Hysteresis
1%R.O.
Repeatability
1%R.O.
Zero Balance
±10%R.O.
Safe Excitation Voltage
7V
Input Terminal Resistance
350±5%
Output Terminal Resistance
350±5%
Insulation Resistance
> 1000MΩ(DC50V)
Compensated Temperature Range
0℃ - 50℃
Permissible Temperature Range
-10℃ - 60℃
Temperature Effect on Zero Balance
0.5%R.O./10℃
Temperature Effect on Output
0.5%R.C./10℃
TEDS
Built in the load cell
NDIS Standard Receptacle
PRC03-21A10-7F
Supplied cable
φ6 6-core shielded cable 1m with plug connector at both ends
Connector:PRC03-12A10-7M

For pressure measurement of spot welding in automobile production lines!
Use image
Simultaneous use with portable digital indicator TD-01 Portable enables easy on-site pressurization management.